| Compare Our Services | Public  Transport | Safety | Questions |
It is always a stressful business to get to and from the airport. Especially in a city like Prague, tourists always find it difficult to travel by public transport. However, you can sit back and relax knowing that Prague Airport Transfers is here to provide you with the best transfer service available.
You can choose from four different types of transportation services at your disposal. Whichever option you choose, our friendly chauffeur will be ready and waiting to greet you. We track arriving flights online, so even if your flight is delayed or arrives early, we'll be there for you.
1. Private Taxi Transportation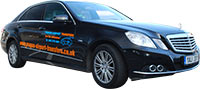 There is always the chance that tourists will be overcharged by regular street taxis. To avoid falling for this scam, you can use our private taxi service. You will be guaranteed quality service and savings of up to 50% compared to regular taxis. For more information,  click here.
2. Shared Shuttle (Door-to-Door)

This service is suitable for those who are on a tight budget or have some time to spare. This service represents good value for groups of three people or less. For more information, click here.
3. Luxury Limousines
Travel like a king by booking our luxury limousines, which include chilled beverages like beer, sparkling wine, Coca-Cola and complimentary mineral water, free Wi-Fi and many other benefits. For more information, click here.
4. Shuttle-Bus
This service is perfect for those who are running on a very low budget. Our shuttle-bus service travels between the airport and the Prague City Centre stop, which is located at the kiosk marked as PREMIANT at Národní 40. This is within 3-5 minutes' walking distance of Wenceslas Square, with access to metro lines A and B, station Můstek. For more information, click here.

Public Transport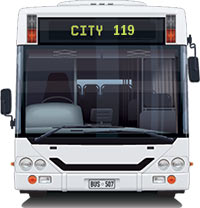 If you plan on using public transport in Prague, be prepared for some walking and jostling among the crowded buses and metro, especially during peak hour. Using a public bus will get you to the nearest station (either at Veleslavín metro line A or Zlíčín metro line B). You will be able to catch a bus to Veleslavín every 10 minutes, starting from 4:15 am and running through to 11:30 pm. You will find escalators in the lobby only, but not to the platform of bus line 119. You will be helped with your luggage by porters, who work three shifts on a daily basis from 5 am to 10 pm. If you miss the last bus to the Veleslavín metro station, then your only means of reaching the station is via a night bus and night tram combination, which can take up to two hours and make the journey highly inconvenient. One advantage of public buses is that they are cheap – tickets cost only CZK 32 with an additional CZK 16 per large piece of luggage – and they are a safe way to travel if you have light luggage and time to spare. However, a disadvantage is that the buses tend to be overcrowded more often than not, and they are not appealing if you have just landed after a long and tiring flight. As a result, searching for a hotel or address while carrying luggage and suffering from jet lag becomes very inconvenient. Hence, if you have a lot of luggage, a good transfer option for you would be to take a taxi or use door-to-door transfer service.
Public Taxis
A ride from the airport to the city centre will rack up a fare of CZK 600 on the meter, with the fare rising up to as much as CZK 750 if you get stuck in traffic. Travelling to the farthest end of Prague will cost you as much as CZK 1400.

Comparison Table
Prices are quoted in CZK (local currency).

Better be Safe than Sorry – Be Careful when Booking!
In addition to the overcharging cabbies (just search 'Prague taxi' on YouTube), there are plenty of transfer services who only provide potential clients with email and telephone numbers, but give no insight into their history or registration (licence details). This is because they do not have a proper licence. Not only will you be charged unfairly by dishonest companies – or individuals – but you might also be in trouble in case there is an accident. Yet another possibility is that no one will show up to receive you – even if you have prepaid for your booking. So it is better to check the transfer company's history thoroughly so that you do not get scammed.

Is Prague Airport Transfer Service Cheaper than Regular Taxis?
Definitely. You will most certainly be charged less for travelling with us than for hiring a regular taxi (prices are slightly lower when going to the city centre, and much lower if going farther). Normally you will have to pay around CZK 650, but the amount depends not only on the distance but also the honesty of the driver and the traffic (there is a charge of CZK 6 per minute if the taxi is stuck in traffic). A dishonest driver will very easily charge you two or three times higher than the actual fare.