Private Half Day Trip from Prague
This extensive Gothic royal castle from the 13th century, originally a hunting castle of the Přemysl dynasty, was rebuilt at the end of the 15th century for Wladislaw Jagiello. Used as a prison in the 16th century, later the castle was burned down in 1643 and finally restored at the turn of the 19th and 20th centuries. The historical interiors include the chapel, the Knights' Hall, the Royal Hall, the Fürstenberg library, the jail and the Fürstenberg museum (where paintings and books are stored). The cylinder-shaped tower houses an exhibit on hunting weapons. The Huderka tower offers splendid views around. One of the other great things about a trip to Křivoklát is the surrounding countryside, with numerous trails perfect for hiking, biking and more. Distance – 40 km west of Prague.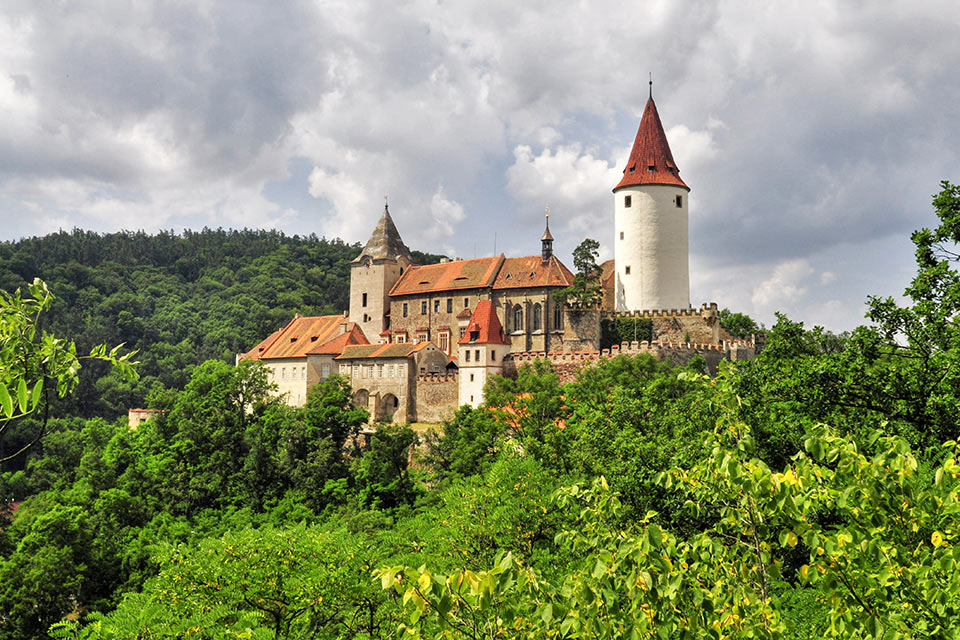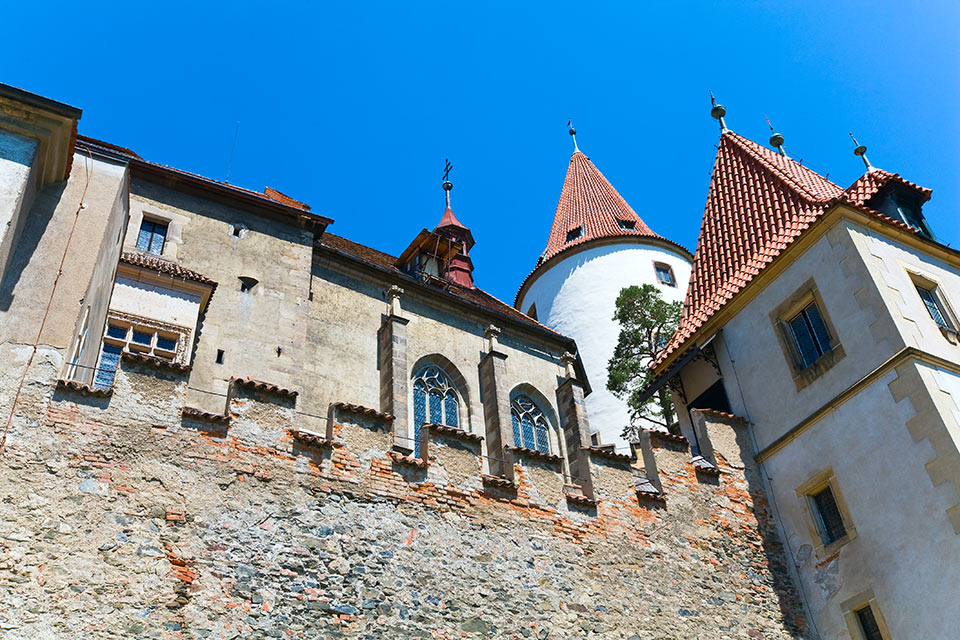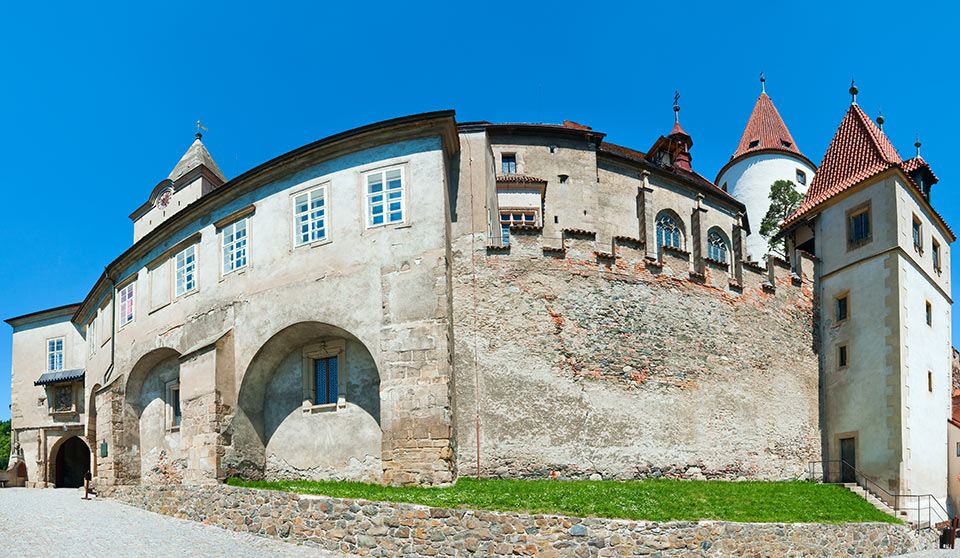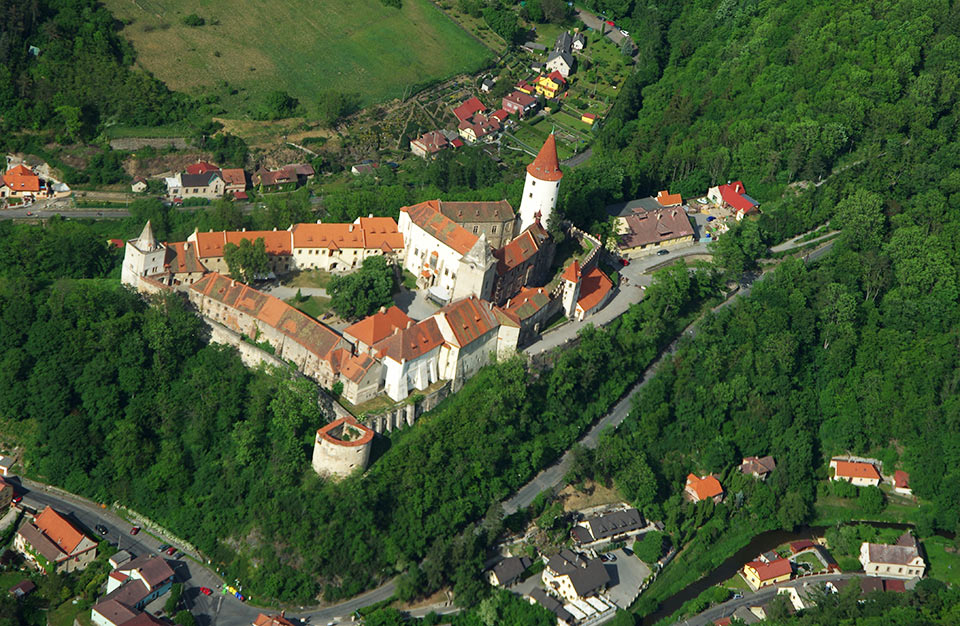 Check prices in your currency (EUR, GBP, USD etc.)
Křivoklát private excursion price list
GROUP SIZE
TOTAL PRICE FOR
WHOLE GROUP
TOTAL
DURATION
RECOMMENDED
PICK-UP TIME
FREE TIME AT
DESTINATION
1 – 4 pers.
CZK 1700 / group
4 hrs
From 7am to 1pm
2 hrs
5 – 8 pers.
CZK 2300 / group
4 hrs
From 7am to 1pm
2 hrs
More pers.
Ask Us
—
—
—
Castle is open / excursion is possible: every day except Mondays (from April till December).
Free time at destination: 2hrs (sufficient for visit to the castle).
Price excludes: tour guide or any entrance fees. Castle entrance fee: from CZK 120 to CZK 200 per person (should be paid directly by customer).

Tip: If you like castles then you can combine a visit to Karlštejn with a visit to Křivoklát, as both castles are amazing and quite different. Please contact us for a price quote.
Křivoklát Castle History
Křivoklát Castle can be found in Central Bohemian Region of the Czech Republic. Křivoklát was founded during 12th century and belonged to Bohemain kings. During the reign of Přemysl Otakar II a large, monumental royal castle was built, later rebuilt by king Václav IV and later enlarged by king Vladislav of Jagellon.
The castle was damaged by fire several times. It was turned into harsh prison and the building slowly deteriorated. During 19th century family of Fürstenberg became castle owners and reconstructed it after a fire in 1826.
Today the castle serves as museum, tourist destination and place of theatrical exhibitions. Collections of hunting weapons, Gothic paintings and books are stored here. Village Křivoklát slowly grew up under the castle since 14th century.
We loved Karlstejn Excursion. Thank you very much! Very impressed with your driver Roman, he explained us lot things on the way, and his driving was excellent. Raymond
I couldn't have enjoyed this excursion more! Everything ran very smoothly, from booking the tour to meeting up with your driver at the hotel reception. When we arrived at Kutna Hora our driver briefly showed us all sights and drop us at the information center. Really good value for money too. Thanks!!! Karl W.